"The need for collaboration is especially clear for water. Few things are so intimately linked with life and prosperity." – Brandes, Marshall, and Sears
The biggest watershed new stories are usually about conflicts; lately in BC, this means mines and pipelines. People want jobs, but they also want BC to be beautiful.  What's the  balance?  In the spirit of Building Bridges, it was a pleasure to join forces with Oliver Brandes (of the Polis Institute), and David Marshall (from the Fraser Basin Council) on an op-ed for the Vancouver Sun, promoting watershed collaboration.
The article grew from a watershed gathering held in Vancouver in late January – a crash course on collaboration, and a chance to learn what other groups are doing in BC. Basically, we've all been going it alone, with little formal communication between the Island, the Fraser, the Columbia, the Okanagan, and other watersheds.
Our op-ed focused on collaboration as a principle for watershed management, but we purposely didn't dig into watershed governance because it hasn't been as well-defined in public conversation. My impression at the gathering was that governance means different things to different people. Here, I want to share my sense of the common threads.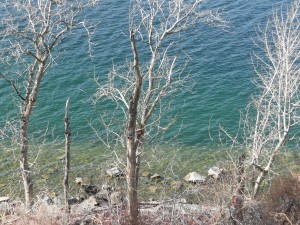 In a perfect world, environmental agencies would have lots of boots on the ground, and excellent data on natural resources and economics. They'd be making decisions that suit local needs and fund health care and education province-wide. Instead, the ministries are shrinking, we have pared-down budgets and high demand for raw materials. Yet we still need to protect water sources. We have to do more with less, and do more, regardless.
Government wants information from the local level, and locals want to participate – but we're still working on the process of exchange: this is the nuts and bolts of watershed governance.
The word has a clunky ring, but the idea of governance is that there's more to decisions than just someone, like George W. Bush, saying "I'm the decider." Many times, the buck does stop with a statutory decision-maker, a provincial employee with big responsibilities. But even at the best of times it's difficult to stand in judgment about who should get a water licence, or to tell a farmer to turn off his irrigation during a heat wave. My experience is that these "deciders," make happier choices when they have better information, and are working with a supportive community.
Watersheds span borders and boundaries. This means that any given gravel pit can affect a water utility on a nearby creek, a municipality downstream with a lake intake, and fish spawning as far as a sediment spill will carry. A system of watershed governance can supply formal ways for those who aren't statutory decision-makers to weigh in on where gravel pits are sited: providing advice and developing future plans.
Some of the controversy with the term "watershed governance" is whether it means there is a down-shift of authority to local control. One currently popular philosophy is that decisions should be made at the lowest appropriate level of government. But that leaves us hanging. "Which decisions should be made locally, and which should be made in Victoria or Ottawa?"
Most of what I've heard from local leaders is that they would like to have a say about polluting industries that affect a common resource, like water or air quality. Water licensing authority is less sought after. On one hand licences should be based on straight facts (is there enough water to support a new licence?), and on the other hand, licensing is notoriously prone to cronyism (it depends who you know). In general, local governments do not want a lot of new responsibilities, but they do want a say about resource development around them.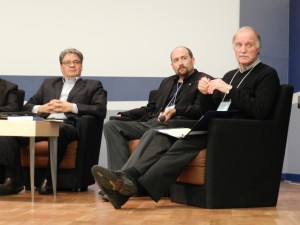 BC watershed organizations range from large and sophisticated (like the Fraser Basin Council or the Columbia Basin Trust), to small scattered groups of volunteers. The Okanagan Basin Water Board is somewhere in the middle: compact and durable. If we (collectively, BC) want local input to decisions, we have to find a way to support people from small rural areas. They tend to live nearest to the resource development, but don't have many resources, themselves, to weigh in.
Under the new Water Sustainability Act, the province is considering whether to "enable" regions to form watershed agencies. In practice, this means government can leave a place holder in the new Act, and spend a few more years on the regulations. If we are revisiting the basic rules of the game, we should use this time to agree on the kinds of authority could be transferred, and on how to level the playing field.
A final governance question from the gathering is how government will move forward with the new Water Sustainability Act when there are so many unresolved questions about First Nations rights and title for water and resources. It's painfully slow, watching the movement through the court system. In this, we need a decision soon.