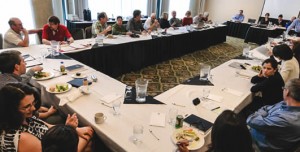 The Okanagan Water Stewardship Council is a broad-based advisory body to the OBWB, with representatives from diverse water stakeholder groups and a local source of technical expertise.
Council members are nominated for 18 month terms by their respective organizations, and ratified by the OBWB.
The Council meets monthly to provide independent advice and policy recommendations for sustainable water management.
---
Current Council Members:
2023 – 2024
---
Agriculture and Agri-Food Canada
Kristen Hannam / Jesse MacDonald

BC Agriculture Council
Hans Buchler

BC Cattlemen's Association
Lee Hesket / Keith Manders

BC Fruit Growers Association
Katie Sardinha / Glen Lucas

Ministry of Forests – Research
Sheena Spencer (Vice Chair) / Kristen King

Ministry of Forests – Resource Management
Kelly Chiatto / Ray Crampton
BC Groundwater Association
Marta Green

BC Water Supply Association
Patti Meger / Bob Hrasko / Shawn Grundy

BC Wildlife Federation – Region 8
Lorne Davies / Bill Bosch

Canadian Water Resources Association
Brian Guy (past chair)
City of Kelowna
Rod Maclean / Ed Hoppe

City of Penticton
Alistair Wardlaw / Jonathan Chu

City of Vernon
TBD

Fisheries and Oceans Canada
Lynda Ritchie / Sue Lemke / Teri Ridley
Environment and Climate Change Canada
Jeremy Fyke (Chair) / Dave Hutchinson / Alyssa Charbonneau
Emerita
Denise Nielsen (past chair)
Engineers & Geoscientists of BC
TBD

Interior Health
Rob Birtles / Judi Ekkert
Irrigation Industry Association of BC
Bruce Naka / Ted van der Gulik (past vice-chair)
Ministry of Agriculture
Stephanie Tam / Lindsay King

Ministry of Environment & CC Strategy
Kym Keogh / Dennis Einarson

Ministry of Land, Water and Resource Stewardship
TBD

Okanagan Collaborative Conservation Program
Scott Boswell (past chair)

Okanagan College
Alison O'Neill / Rob St. Onge
Okanagan Indian Band
Raymond Marchand / Patrick Riley

RD Central Okanagan
Jing Niu / Brittany Nichols

RD North Okanagan
Zee Marcolin / Tricia Brett

RD Okanagan–Similkameen
Shelley Fiorito

Shuswap Okanagan Forestry Association
Matt Scott / Bryan Darroch

Thompson-Okanagan Tourism Association
Eve Layman / Ellen Walker-Matthews

UBC Okanagan
Craig Nichol / Marnie Turek
Chamber of Commerce – Kelowna
Derek Gratz
BC Institute of Agrologists
Scott Smith / Theresa Loewen

---
Okanagan Water Stewardship Council – Photo Gallery