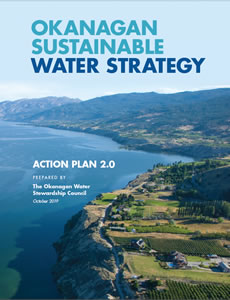 In October 2019, the Okanagan Water Stewardship Council released its Okanagan Sustainable Water Strategy: Action Plan 2.0.
The Strategy builds on Action Plan 1.0, released in 2008, expanding on topics such as climate change adaptation; highlighting new issues such as the threat of invasive zebra and quagga mussels; and discussing policy and legislation changes that impact water today. Action Plan 2.0 also reports on progress made and insights gained over the last decade and showcases recent projects and case studies.
The new Strategy includes 50 actions designed to protect water at its source, plan for flooding and drought, manage water demand, collect and share data, and collaborate and build partnerships. The effort involved in creating the updated document has been substantial, with more than 70 people providing input. The result is a collaboratively developed, modern, comprehensive strategy intended to safeguard clean and healthy water in the Okanagan now and in the future.
Carrying out the actions in the Strategy requires a diligent and coordinated effort from regulators, practitioners, tourists, and residents. We all need to be good stewards in helping to preserve and protect water in the Okanagan.