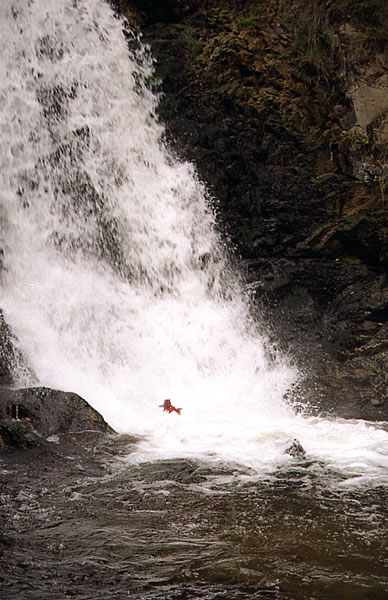 As human development and water extraction levels become more alike throughout the basin, and are in addition to climate pressures, even more stresses are exerted on Okanagan fish populations.
As fisheries regulators seek to protect fish populations, more conflicts are likely to arise between other water users.
Field-based in-stream flow studies are needed to determine environmental flow regimes that sustain aquatic life and ecosystem function in any particular location.
Increasing Competition during High Demand Times
A convergence of peak times for fish and people means that existing competition for water in the basin, particularly during summer (e.g. when there are flow reductions in fish-bearing streams) will likely intensify in future.
Stream-flows in the Okanagan Basin
Stream-flow during the seven months of August to February accounts for only 14% of total basin recharge, while the 5-month period March to July accounts for 86%. The August to February total stream-flow averages about 18,200 ML per month, which is primarily contributed by groundwater.
Hydrometric Monitoring in the Okanagan Basin
Within the last decade, the network of stations that measure stream-flow and lake levels has been reduced to about half of historical levels, presenting a challenge for hydrologic modeling and water management activities.
Read More:
Downloads:
Okanagan Lake Action Plan
On-going Projects: